The Speedmaster Professional bracelet & strap guide
Part 2

We only show some pictures of the ref.1498 bracelet because we don't have pictures of the 1499 yet.

Ref. 1498 bracelet
The ref.1498 with the 20mm endpiece. The width at the clasp is 18mm, 16mm at the end of the braceletlinks.
The clasp is nicely finished but scratches fairly easily.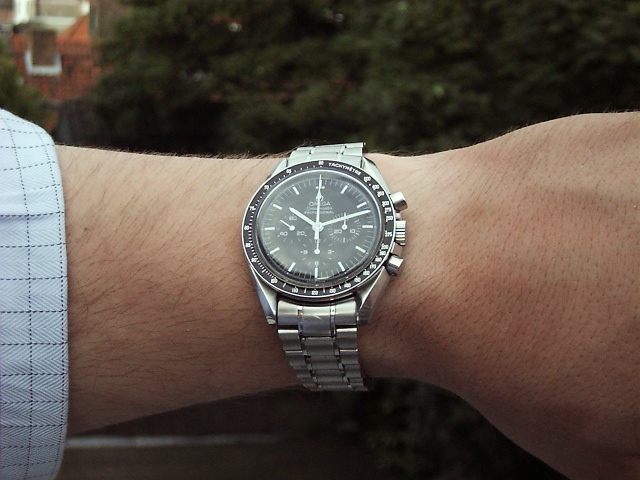 The Speedmaster Pro (2000) with its original ref.1498 bracelet.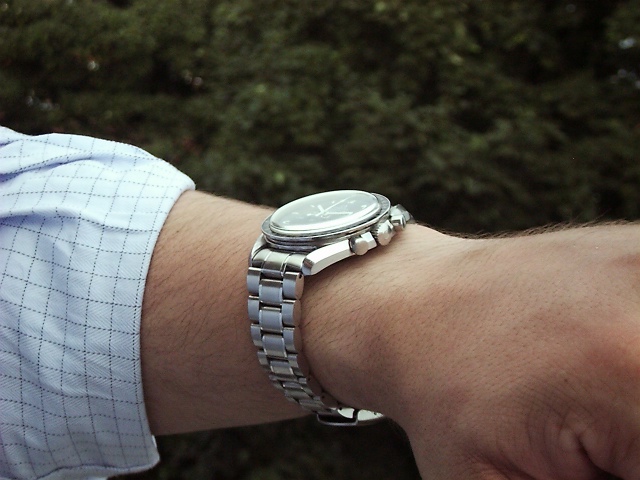 From another angle. This bracelets looks (and is) very solid, but is a bit too much for the Speedmaster according to us.
The latest Speedmaster Professional bracelet is the ref.1998. It is 20mm wide at all points and has a double push-button at the clasp like the Seamaster Professional clasp. We are glad that Keith Downing provided us with some pictures of his watch.
Ref. 1998 bracelet
The double push-button has proven itself during the use on the Seamaster Pro from 1993 till now.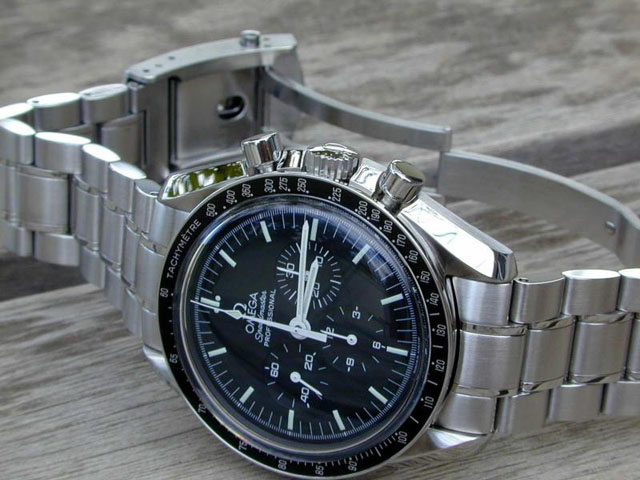 The ref.1450 and ref.1479 definately are more suitable for the Speedmaster Professional than all other straps. The first ref. 1039 wasn't much of a quality piece and the links were not solid either. The ref.1450 was the first bracelet that had a little volume and the ref.1479 added some nice polished links to that. As we had three bracelets (ref.1450, ref.1479 and the ref.1498) in our own posession, we made some pictures of all three to show the 'evolution' of the bracelets in roughly 20 years.
A picture taken of all three from above. The ref.1450 shows a little strecthing but it in a good shape. The other two bracelets are quite new. The outer right model was the original bracelet that came on the Speedmaster of Bas in 2000 and the bracelet in the middle was bought NOS at Siebel Jewelers in The Netherlands. The ref.1450 is used on Robert-Jan's vintage Speedmaster pro from time to time.
A picture from another angle that shows the endpieces a bit better. The clasp of the ref.1498 (outer right) shows some similarities with the clasp of the Seamaster Professional.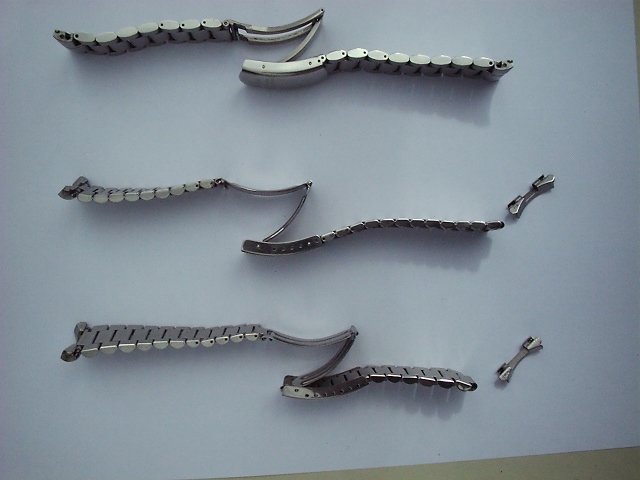 All bracelets on their side. The ref. 1450 (under) and the ref.1479 (middle) have quite simplistic clasps, but they never failed.
The backside of the bracelets and the loose endpieces on the ref.1450 and the ref.1479.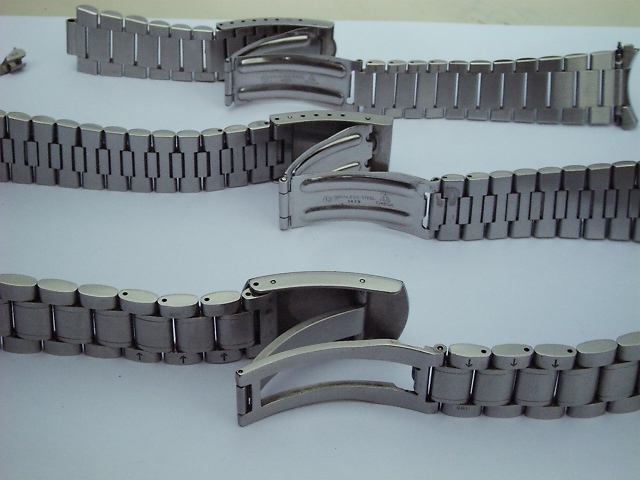 The picture above gives you even a better look on the links and the clasps.
On the next page you will find some information and pictures on leather straps and NATO straps...
Click here for part one of this article Click here for part three of this article